Market Outlook Seminar Series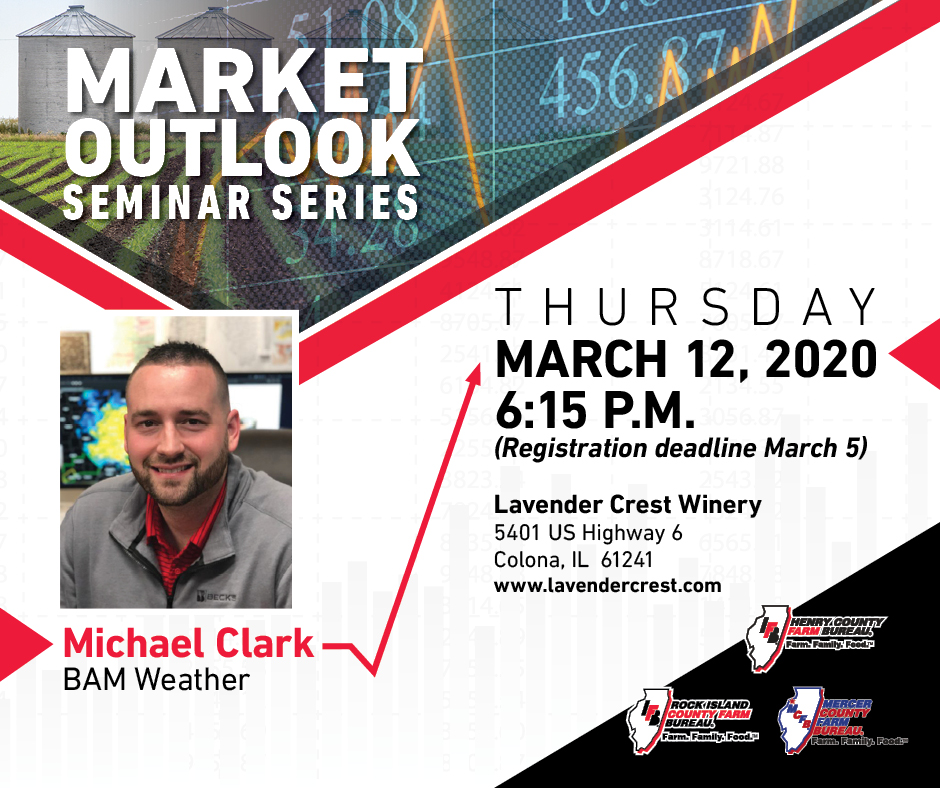 Join us at 6:15 p.m., March 12, 2020 for the next Market Outlook Seminar
Lavendar Crest Winery: 5401 US Highway 6, Colona, IL 61241
(www.lavendercrest.com)
Michael Clark from BAM Weather will be the featured speaker on Thursday, March 12, 2020 at Lavender Crest Winery, 5401 US Highway 6, Colona. The evening will begin with a buffet dinner at 6:15 p.m., followed by an update from Gold Star FS Grain Merchandiser, Mike Schaver. Reservations must made by March 5th to guarantee a meal.
Cost for the series is $75.00 and a single session is $25.00 (if not pre-registered cost will be $30.00). To make reservations, please call Mercer County Farm Bureau (309) 582-5116.
The Market Outlook Series is sponsored by the Henry, Rock Island and Mercer County Farm Bureau Marketing Committees, in conjunction with BankORION, Big River Resources, Blackhawk Bank & Trust, Compeer Financial, Gold Star FS, Steve Sim - COUNTRY Financial and Wells Fargo.