Packed House at Special Program for Women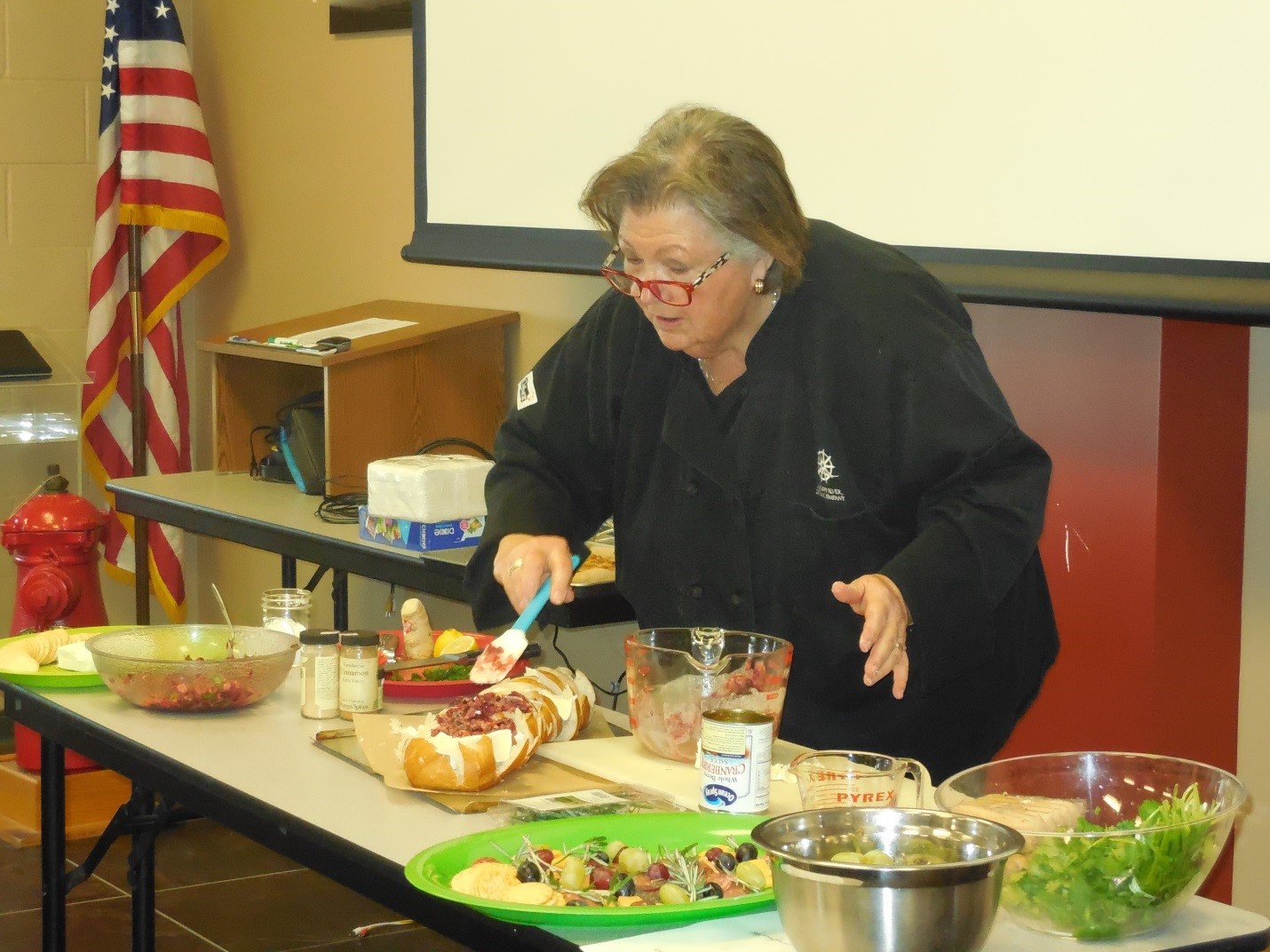 The Mercer County Farm Bureau Women's Committee hosted their Annual 'Special Program for Women' on Friday, November 9th at the Aledo Fire Department. This year's theme was 'Deck the Halls with Delicious Food and Beautiful Holiday Arrangements'. Forty-three ladies attended the three hour program. The program has been held annually for many years and is designed to honor women during National Farm Women Month, which is celebrated every November.
Mercer County Farm Bureau Administrative Assistant Tara Mayhew served as Master of Ceremonies. She began the morning with a funny story about a young woman's Christmas wish for her mother, a son-in-law. She then introduced the first speaker of the day, Stephanie Godke. Stephanie is the chef at Mississippi River Distilling Company and Cody Road Cocktail House. She began speaking about Holiday Etiquette, such as always bring an easy dish to someone's house that doesn't require the use of your host's oven. She then demonstrated how to make four easy holiday recipes. She began with Cranberry Salsa over Cream Cheese, followed by Gingerbread Dip with Lady Fingers, a Christmas Tree Charcuterie tray with various cheeses, meats, grapes and herbs, and then a beautiful Cranberry Brie Boule. Guests were then treated to samples of each recipe and were able to take copies of the recipes home to try for the holidays!
The day's second speaker was Jenny Zimmerman, owner of the Aledo Flower Shop. She started her program by arranging a beautiful fresh box arrangement with sunflowers, lilies, roses and more. She talked about how to layer flowers and fill in spots to make a full arrangement. Once she was done, she drew a name for one lucky guest to take home the arrangement! She then showed the group how to put together a silk arrangement in a bucket using pine twigs, berries, pine cones, leaves and some twisty decorative sticks. She then drew another name for that arrangement. Lastly, she showed the group how to make a festive Christmas wreath by starting with a plain evergreen wreath. She jazzed it up with pine cones, red berries, Holly leaves, twine and a beautiful red plaid bow to top it off. Another lucky guest's name was drawn to take home the wreath. Attendees enjoyed seeing the beautiful creations and learned a few tips for making their own at home!
The last speaker of the day was Kyle Lloyd, owner of the Cookie Coop. She began her program by handing out homemade and festive cookies to everyone in attendance! Her cookies are made with her family's farm fresh eggs. She talked about the top ten things she has learned about making and decorating the perfect Christmas cookie, including patience and a love for baking. She showed the group various cookie cutters that if turned upside down, can make a completely different design. Kyle spoke about how making sugar cookies is really a three-step process: baking the cookies and letting them cool, putting on the first layer of icing and letting it set, then doing the decorative icing and letting it dry before packaging them. She then drew names for some extra cookie packages!
The day concluded with a delicious lunch prepared by Reason's Locker. The women were treated to homemade vegetable beef soup, ham and turkey wraps, and a variety of homemade pies. The program served as a great way to inspire ideas for the upcoming holiday season and an excellent opportunity for fellowship among those in attendance.