Birdies for Charity, John Deere Classic 2019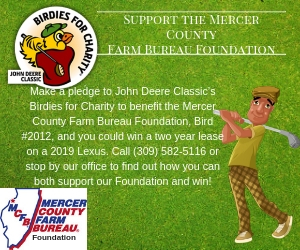 It's Birdies for Charity Time! And when you fill out a Pledge form (see link below) for the Mercer County Farm Bureau Foundation – your donation goes further with the support of John Deere, and you have the chance to win a two year lease on a 2019 Lexus NX!
http://www.mercercfb.org/admin/uploads/files/Birdies%20for%20Charity%20Pledge%20Form%202019.pdf
What's the Mercer County Farm Bureau Foundation doing? We fund ag in the classroom programs in Mercer County elementary schools as well as annual scholarships for students pursuing secondary education in ag-related careers.
Simply fill out a pledge card by July 8th with your contact information and pledge amount and mail it to the Farm Bureau office at 206 SE. Third St., Aledo, IL 61231. Pledges need to be at least one penny per birdie, or can be a one-time flat donation. You will also be able to guess the number of birdies recorded during Wed-Sun of the John Deere Classic for your chance to win a car or other prizes.
After the tournament, you will be invoiced based on the number of birdies recorded.
For example, if you pledge $0.01 per birdies and 2,000 birdies are recorded, you will be billed for $20.00.
Individuals who guess the correct number of birdies will automatically have the chance to win a 2-year car lease. A blind drawing reduces the number of correct guessing donors to five - with the final five having the chance to turn an ignition key themselves at a live event. One key starts the car. Other great prizes are randomly assigned and include a John Deere riding lawn mower, John Deere Classic Tee Marker, and more.
After the tournament, the John Deere Classic invoices each donor to collect their pledges.
Once all the money is collected, the tournament delivers checks and a detailed list of donors to each charity by October 31st.
When this Foundation was formed in 2009, our goal was to grow our scholarship offerings and support our Ag in the Classroom program. The Mercer County Farm Bureau® Foundation is asking for your assistance and support so that Farm Bureau can make a difference and spread agriculture knowledge through our educational programming!
Please help us preserve our past and grow our future for the generations to come!
Respectfully –
Ryan Mueller, President
Mercer County Farm Bureau® Foundation