Great Turnout at Annual 'Special Program for Women'
The Mercer County Farm Bureau Women's Committee hosted their Annual 'Special Program for Women' on Tuesday, November 7th at the Aledo Fire Department. This year's theme was 'Tips and Tricks for a Healthy & Festive Holiday.' Forty-two ladies attended the three hour program. The program has been held annually for many years and is designed to honor women during National Farm Women Month which is celebrated every November.
Mercer County Farm Bureau Manager Kendra Anderson served as Master of Ceremonies. She began the morning with a funny story about cooking a turkey and introduced the day's first speaker Kristin Bogdonas. Kristin is a University of Illinois Extension Nutrition and Wellness Educator. She presented on 'Cooking Healthier for the Holidays.' She talked about a variety of whole grains such as bulgar wheat, quinoa, and wheat berries. She discussed how to incorporate them into everyday meals. The presentation concluded with everyone getting to taste test a variety of whole grain dishes. Everyone left the program with recipes to try at home!
The second speaker of the day was Laura McGinnis, owner of Neck in the Woods Bed & Breakfast. She showed a variety of different ways to decorate your entryway for the holidays. She showed several different ways the women can dress up their entryways without spending a bunch of money. She said you can find containers and old wreaths at Goodwill that you can tear apart to make festive holiday decorations. She provided a lot of innovative ways to dress-up your home for the holidays and not spend a lot of time or money.
The day concluded with a drawing for a door prizes and a delicious lunch prepared by Doug's Town and Country Restaurant. The women were treated to homemade soup, sandwiches, and apple pie. The program was a great way to inspire ideas for the upcoming holiday season and an excellent opportunity for fellowship among those in attendance.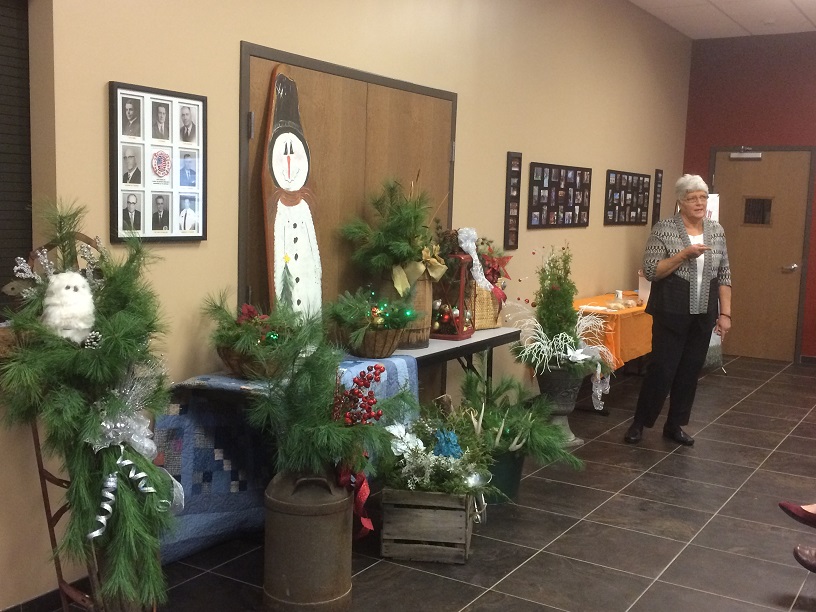 ILLINOIS farm bureau news